Fright Night (1985) 02/03/2014 ★ ★ ★ 
Dir. Tom Holland Sta. Chris Sarandon, William Ragsdale, Amanda Bearse, Roddy MacDowall—USA—-Horror, Comedy, Thriller
One of the best horror-cult films to come out of the 80s, that is so often overlooked. Both witty and thrilling, this one serves as a great tongue and cheek homage and stand alone horror that is awesome to watch with friends.
Brian's Song (1971) 02/06/2014 ★ ★ ★ 
Dir. Buzz Kulik Sta. James Caan, Billy Dee Williams, Jack Warden—USA—Drama, Sport, Bio
Although aired over 40 years ago, this is one of the most well put together, shot, and emotionally conveyed TV movie I've ever seen. In just a little over an hour, both actors bring to life a beautiful and uplifting story of friendship and life.
 Cockneys VS Zombies (2012) 02/07/2014 ★ ★  1/2
Dir. Matthias Hoene Sta. Rasmus Hardiker, Harry Treadaway, Michelle Ryan—UK—Horror, Comedy
Not as cheesy as the title lends it to be, but it is a witty and fun time for horror/ zombie fans. The set-up and characterizations are surprisingly detailed for a film of this caliber
 Catch 22 (1970) 02/07/2014 ★ ★ ★
Dir. Mike Nichols Sta. Alan Arkin, Anthony Perkins, Jon Voight
It would be near impossible to completely capture such a lengthy and detailed novel such as Catch 22. However, through witty nuances, motifs, and clever camera angles this film serves as a great justification for a story concerning the blunt nature of death.
 They Might be Giants (1971) 02/08/2014  ★ ★ ★
Dir. Anthony Harvey Sta. George C. Scott, Joanne Woodward, Jack Gilford—USA—Mystery, Drama, Romance 
A whimsical comedy with its share of outlandish elements on the surface, this film also conveys the grim realities of schizophrenic personalities; in all delivering a touching piece on human perception.
 King Kong (1976) 02/09/2014 ★ ★ 
Dir. John Guillermin Sta. Jeff Bridges, Charles Grodin, Jessica Lange, John Randolph—USA—Thriller, Adventure, Fantasy
A fun, albeit decent action-fantasy blockbuster of the late 1970s. This one has the unfortunate misgiving of being stuck between a spectactular remake, and a loved classic. An amazing score, witty dialogue, and impressive effects carry this one, 
 Pulp (1972) 02/12/2014 ★ ★ ★
Dir. Mike Hodges Sta. Michael Caine, Mickey Rooney, Lionel Stander—UK—Comedy, Mystery, Thriller
Funky and stylish mystery-thriller, which could not be more appropriately titled. This one both embodies, and satirizes 1970s pulp fiction by balancing dramatic life and death situations with constant wry humor and narration from the lead.
Wake in Fright (1971) 02/13/2014 ★ ★ ★ 1/2 
Dir. Ted Kotcheff Sta. Gary Bond, Donald Pleasance, Chrips Rafferty—-AUS—-Thriller, Drama
An experimental psychological piece which touches on several themes such as the primitive nature of man in western society, and the relationship between isolation and madness.The result of which, is a tale of small town ignorance in spirit of Plato's shot story, "The Cave"
The Exorcist (1973) 02/15/2014 ★ ★ ★★ 
Dir. William Friedkin Sta. Ellen Burnstyn, Max Von Sydow, Jason Miller, Linda Blair—-US—-Drama, Horror, Thriller
A dark, forboding piece which utilizes a demonic possession tale as vehicle to convey a story of faith, and it's importance to human fuction. Each actor delivers their all, and Friedkin shows his best. through oresentation of story, and photography.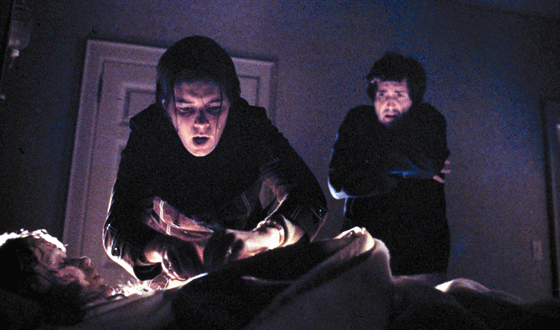 Dances With Wolves (1990) 02/16/2014 ★ ★ ★★ 
Dir. Kevin Costner Sta. Kevin Costner, Mary McDonnell, Graham Greene
By escaping death, and deserting civilization a man learns what it means to live. While the story has been told innumerable times, this unique presentation set in front of a beautiful landscape and dazzling score, is a necessary watch in this day and age.
Tombs of the Blind Dead (1971) 02/17/2014 ★ ★ ★
Dir.  Amando de Ossorio Sta.  César Burner, Lone Fleming, María Elena Arpón—-SPN—-Horror, Mystery 
Surprisingly well told, and impressively shot zombie tale which utilizes a classic concept of ritualistic zombification. Beautiful remote Spanish ruins, a sound plot, beautiful 70s actress', and decent acting make this an underrated classic.
Nighmares in Red, White, and Blue (2009) 02/19/2014 ★ ★ ★
Dir. Andrew Monument Sta. Lance Henriksen, Larry Cohen, Joe Dante—-US—Documentary, Horror
Not that bad of a documentary, recommended for someone who is interested in the horror genre, or is a beginning "fan". I love how each director and commentator tied the social climate of the documentary's time line to the featured films.
The Texas Chainsaw Massacre (1974) 02/20/2014 ★ ★ ★ 1/2 

Dir. Tobe Hopper Sta. Marilyn Burns, Edwin Neal, Allen Danziger—-USA—Horror, Thriller 
The fact that I've seen this film four times in three years and still enjoy it as much as the first time I saw it speaks for itself. The cinematography, dirty atmosphere, and witty moments within never cease to amaze me.
Django: Unchained (2012) 02/21/2014 ★ ★ ★ 1/2 
Dir. Quentin Tarantino Sta. Jaime Foxx, Christoph Waltz, Leonardo DiCaprio—-USA—-Adventure, Action, Western
Another film I watched more times than usual upon it's release, and still captivates my attention fully. This film's style and fun nature ensure there is never a dull moment. 
Newcastle (2008) 02/22/2014 ★ ★ ★
Dir. Dan Castle Sta. Lachlan Buchanan, Xavier Samuel, Reshad Strik—-AUS—-Drama, Comedy
Despite being labeled a coming of age, and surfing film no less, this one dares to surprise viewers with its dark overtones and tragic characters layered in its heartwarming moments; enhanced by the beautiful, but remote coastal backdrop. 
Blue is the Warmest Colour 02/22/2014 ★ ★ ★★ 
Dir. Abdellatif Kechiche Sta. Léa Seydoux, Adèle Exarchopoulos, Salim Kechiouche—-Fra.—-Drama, Romance
Dazzling visuals reminiscent of French expressionism of the 60's, help unravel an epic story of sexuality, growth, and individualism. Saturated with symbolism, political, and cultural undertones, there are more elements to this one than meets the eye
Top Films
1. The Exorcist
2. Blue is the Warmest Colour
3. Wake in Fright
4. They Might Be Giants
5. Pulp
6. Tombs of the Blind Dead
7. Dances With Wolves
Cliche Counter: Made in the 70s: 9 Italian: 0 Euro: 2 Horror: 3
One or More Main Characters Die: 4 Male Cast: 7
What begins as an outlandish comedy, quickly develops into a sweet and satisfying tale of friendship showcasing the grim realities of mental illness. It is near impossible for the view to conceive that the film's protagonist, upon introduction, is anyone but Sherlock Holmes or mentally insane. Like the famed detective, he [the protagonist] readily deduces and swiftly draws correct conclusions. It is only fit, that the protagonist is deemed insane by his peers for his excentricities and paranoia as he was written in the novels. This presents the major pondering mark of the film; should we trust what we see and observe ourselves to be truth, or what science tells us is truth?
As viewers quickly learn, the protagonist, tactfully performed by George C. Scott, is a paranoid schizophrenic named Justin Playfair; at least, his greedy brother is trying to get science to say so. Prior to his fall out, Justin was a highly successful Justice of the Peace with a large estate. Therefore, it is only natural that his brother is trying to send him away. This problem, is trite compared to the events to the loving and tragic story that unfolds in the next hour and a half. 
As Justin believes he is Holmes, and presents no danger to society, doctors have a difficult time diagnosing him. Until, a young female doctor is near blackmailed to observe him. Ironically, this doctor shares the surname of Justin's mental parasite's literary best friend and confidant, Dr. John Watson. Upon learning this Justin finds he has met his destined partner, and likewise Watson is soon entralled by Justin's overt observational nature, and sad paranoid confliction. Justin is obsessed with seeing clues in everyday situtaions such as a news story or street address, to him they are signs he is being sought out and stalked by the mysterious "Moriarity". As Justin announces his plans to take down the criminal, his Doctor Watson can't help but tag along as his literary double did upon arrival at 221 B Baker St. 
Over the course of the film, the pair meet and interact with others who represent the unappreciated commonfolk who place barriers around reality. Is this Justin's dilemma? Is he really a do-gooder as we see throughout the film, who cannot accept his ills in life? Or he is seriously mentally ill and dangerous to society? After creating a strong bond between the story's protagonists, the film ends abruptly on the surface. However, shrewn throughout there are several social commentaries and questions raised about the character's surroundings. On such example being; who is Moriarity? Justin sees acts of violence upon him and others as coming from Moriarity…can Moriarity be a symbol for the crime and social injustice that Justin cannot accept? Therefore, causing him to personify them into a "being"? Or is Moriarity a metaphor for Justin himself? Despite the films obviously Sherlockian connection, there are also several allusions to Don Quixiote including one key line regarding mental illness; Quixiote may not have been mad if he thought windmills MIGHT be giants. Therefore, one is not insane if they imagine anything is possible, but not truth. 
Whatever the case may be, They Might be Giants is a lost gem that should be rediscovered by any film fan. It's fun, adventurous, and witty enough to humour those who are just looking for an "escape" rather than an analytic piece. Of course, it's also a must see for fans of classic literature, or Sherlock Holmes. 
A Movie Review of Catch 22 (1970)
Joseph Heller's 1953 novel is famous for its ground breaking touch on several controversies of wartime upon its publication, most prominently conveyed through the motif of "Catch 22", prevalent throughout its context. As with wars preceding it, World War II bombarded prospective soldiers and those left on the homefront, with propaganda promoting its nature as patriotic and helpful to the country on a whole. Wives, mothers, and children sat on the sidelines supporting their troops with victory gardens, and volunteering at the red cross while their husbands, sons, and fathers gathered around the volunteering booths ready to show their ultimate display of American patriotism. Although many of these same young men would be sent home in body bags or seriously maimed for life, picture shows and advertisements conveyed glorious battle scenes and long dramatic death scenes, to show that these men died they best way they could. 
On the contrast, almost 20 years later, the American Youth displayed starkly different attitudes. Instead of readily signing up for battle, men were fleeing the country or or waiting to the last possible moment to concede to their conscription papers. Those who willingly choose to do battle were mocked, or even abused by young protesters who rallied against the war in Vietnam. Instead of showing films about young war husbands, the cinema and upcoming filmmakers rarely touched on the subject directly, instead using obscure symbols and motifs in their pictures to convey American opposition to war. In addition film became rebellious, and unspeakably violent as young artists argued that it was the only way to show how unapologetic, and inglorious death is. Even though characters within these films were getting shot down in the streets of America or sliced alive by New York coke heads instead of on foreign soil, sentiment was to instill that these were Americans, and death of any sort was unnecessary. In fact, many pictures hinted at the notion that war only benefited the government, who was making economic profits from the war. Moreover, those who were sent home or survived the war were treated badly, neglected by the government, and became seriously emotional and mentally disturbed. 
When Mike Nichols adaption of Joseph Heller's famous novel, Catch 22, hit the big screens in 1970, the strong anti-war symbolism it contained was not a surprise to many viewers. Although it strangely showed characters opposing to their war on base during wartime, the war it was set occurred 20 years earlier in World War II. However, what audiences may have forgotten was the novel was published during a time when war was still coveted as a serious and patriotic obligation. From the first two-thirds of the novel we follow the farcical antics of young captain Yossarian and his comrades as they show up naked to funerals, attempt to sell chocolate covered cotton, and propose marriage to constantly nude Italian whores. All the while, mindless acts of violence and sadism are occurring around them each acts oblivious to what they see and hear until the last third of the book, which bombards the reader with death, and cruelty at every turn. 
Like its novel counterpart, the film also uses symbolism, motifs, and clever imagery to convey the abuse of military bureaucracy, the blunt nature of death, and the mindless hypocrisy at the core of war. Of the many motifs and symbols, none so is more present than that of "Catch 22". The aggravating, and tiresome policy states that "one cannot be insane if they believe themselves so". Therefore, a soldier can only find it natural to think that putting themselves in harms way is "crazy", and if they want to leave the war on grounds that they are crazy, they cannot unless someone else says they are crazy. However, those how can only call one crazy are those who are crazy themselves, and thus the allegation is invalid. Through this, Heller cracks the code of the ridiculous nature of war; killing and constantly putting yourself in harms way is crazy. However, how can a two-hour film accomplish the work of a legnthy novel? As the title suggests this is a nearly impossible endeavor, but if there would ever be a time to attempt such a task it would be in the midst of the war in Vietnam. 
Film-makers were already pushing the envelope, and the Catch's film adaptation takes full hold of this advantage. Filled with beautiful cuts and transitions, the novel's meta-physical nature is captured with amazing accuracy. Death is looming all about the main character as  they go about their usual antics. It is obvious that the primary character, played by Alan Arkin, is going insane through his actions. Arkin brings the rebellious and day-dreaming character to life by acting aloof, and silent through out most of the film. As his character goes in and out of his phases, the film parts time lines and shows us the start of his insanity and antagonism to the war. Meanwhile, Martin Balsam and Jon Voight portray the war's ills through arrogant and sardonic characters who ambivalently admit that war is about making a profit for those who run it. Art Garfunkel and Martin Sheen personify the war's willing participants who ignorantly accept their fates. One of the best, and subtly wry performances is given by Anthony Perkins as the sensitive, socially awkward Chaplain, who is too much of a walking mat to display his true feelings for the war. 
Although not an outright proponent of blu-ray, this film looks stunning in High Definition especially in action scenes that utilize explosives. With its dark imagery, constant change of mood, and hidden messages within, Catch 22 is an educational journey. Like the novel, the film begs for repeat ventures as there is always something new to "catch" and observe. Like other anti-war films of the time, opposition is present, but is not state outright so it is up to the viewer to fully soak in and interpret what they are watching. 
 A Time to Kill (1996) 01/02/2014  ★★ 1/2 
Dir. Joel Schumacher Sta.  Matthew McConaughey, Sandra Bullock, Samuel L. Jackson, Kevin Spacey—US—Drama, Thriller 

While the plot seemed to get outlandish at times, and the acting of some of the supporting characters unbearable to watch, overall this film made for a gripping modern southern Gothic tale. McConaughey and Jackson don't even seem like themselves here.
Signs (2003) 01/04/2014  ★★★ 1/2 
Dir. M. Night Shyamalan Sta. Mel Gibson, Joaquin Phoenix, Rory Culkin—US—Sci-Fi, Thriller, Drama 
Compelling modern sci-fi thriller equipped with a beautiful sense of art direction that works to please the eye as well as intensify suspense. While complete with current social issues, this film still retains old monster movie innocence
Pan's Labyrinth (2006) 01/10/2014 ★★★ 1/2 
Dir. Guillermo del Toro Sta.  Ivana Baquero, Ariadna Gil, Sergi López—Spn—Fantasy, Drama, War
Not quite what I was expecting, but still apologetically satisfying; this "adult fairytale" works to retrogress the viewer from the start. An even juxtaposition of the harsh realities of war, and childlike imagination this film unravels both political societal truths.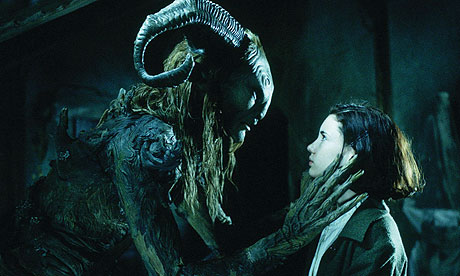 The Producers (2005) 01/11/2014 ★★★
Dir. Susan Stroman Sta. Nathan Lane, Matthew Broderick, Uma Thurman—US—Comedy, Musical 
A laugh-out-loud farcical presentation of Broadway's under trappings. The main leads are perfectly comfortable in their roles, and the tunes are just as fun to watch performed as they are catchy.
The Bird with the Crystal Plumage (1970) 01/14/2014 ★★ 1/2
Dir. Dario Argento Sta. Tony Musante, Suzy Kendall, Enrico Maria Salerno—Ita.—Thriller, Horror 
Isolated and dreamlike,this film is surrealism at its best.Equipped with a soft melancholic score from Morricone, and beautiful cinematography from Storaro this early giallo is simple, but easily brings viewers into its quietly violent world.
.Daughters of Darkness (1971) 01/15/2014 ★★
Dir. Harry Kümel Sta. Delphine Seyrig, John Karlen, Danielle Ouimet—Bgm—Horror, Drama, Thriller 

Relying on a dark, isolated atmosphere this film effectively portrays the oppression and horror of codependency. While some of the acting was a tad off, the films lead portrays the sadist, Bathory in a charming, but macabre manner.
Harold and Maude (1971) 01/16/2014 ★★★★
Dir. Hal Ashbury Sta. Bud Cort, Ruth Gordon, Vivian Pickles—US—Drama, Comedy 
A delicate story concerning the juxtaposing human fascination with death, and the innate philosophy of living ones "life to the fullest". Although the plot is simple, the overall story it conveys an emotional personal message to each viewer.
Trainspotting (1996) 01/17/2014 ★★★ 1/2 
Dir. Danny Boyle Sta. Ewan McGregor, Ewen Bremner, John Lee Miller—UK—Drama, Comedy 
A necessary,and culturally significant glimpse at the day to day lives of those society often ignores.Through a realistic,and unapologetic band of characters, viewers experience the outrageous,dark,and sometimes comedic highs and lows of drug addicted youth. 
You're Next (2011) 01/19/2014 ★★
Dir. Adam Wingard Sta. Sharni Vinson, Joe Swanberg, AJ Bowen—US—Horror, Thriller, Comedy 
Mindless violence, heart pounding action, and enough gore to keep any fan of the genre this is a modern grindhouse film not to be missed. Unique in some parts, tributary in others, the only drawback seems to be off acting.
 Bride of Re-Animator 01/19/2014 ★★ 1/2 
Dir. Brian Yuzna Sta. Jeffrey Combs, Bruce Abbott, Claude Earl Jone—US—Horror, Comedy 
Just sequel made in fashion of the first with some obvious new twists. Most characters are back, and are as outrageous as ever. Perhaps not as many laughs as the first, but still a great time with more zombies and witty dialogue.
The Boss (1973) 01/23/2014 ★★ 1/2 
Dir. Fernando Di Leo Sta. Henry Silva, Richard Conte, Gianni Garko—Ita.—Thriller, Action, Drama 
The plot is a confused mess seethes in corruption. Through the protagonist, viewers see firsthand the raw and sleazyhetrappings of the Sicilian mafia and those with whom they do dealings. A violently unapologtic allegory, this is a far cry from Hollywood glamorizations of the mafia.
Psycho (1960) 01/24/2014 ★★★★
Dir. Alfred Hitchcock Sta. Anthony Perkins, Janet Leigh, Vera Myles—US—Thriller, Horror, Drama 
Watching this one for the second time, has only impressed me more with how groundbreaking it was for film-making in general. Beautiful direction, thrilling atmosphere, great character acting by Perkins..and a VERY unconventional plot.
Enough Said (2013) 01/26/2014 ★★★
Dir. Nicole Holofcener Sta. Julia Louis-Dreyfus, James Gandolfini, Catherine Keener—US—Drama, Comedy 
A film that even those who detest the 'romance' genre can enjoy. This picture goes outside the 'romance' label, and delivers a bittersweet slice of life that any viewer aged 18 & up can relate to. Both funny and charming, I highly recommend this one
Silent Running (1972) 01/28/2014 ★★★
Dir. Douglas Trumbull Sta.  Bruce Dern, Cliff Potts, Ron Rifkin—US—Sci-fi, Drama
Beautifully isolated, the lead delivers an excellent performance as an archetypal anti-hero drifting alone in space.This film presents a horrible truth, that is only more evident in today's society. Within is conveyed, "how precious is life?
The Italian Job (1969) 01/29/2013 ★★ 1/2 
Dir. Peter Collinson Sta. Michael Caine, Noel Coward, Benny Hill—UK—Comedy, Action 
Fun, stylish, and hilarious Brit caper. Michael Caine as always is dead pan, but lively and his co-stars play off of him excellently. Not to be taken to literal, this film is a great time for fans of either comedy or crime genre.
Good Night, and Good Luck (2005) 01/30/2013 ★★★ 1/2 
Dir. George Clooney Sta.  David Strathairn, George Clooney, Patricia Clarkson—US—Drama, Historical
Timeless tale that holds up in today's modern political sphere; a stylish noir-esque portrayal of the power media has on public opinion and politics in general. Although slow paced, it is an intellectual study that should be seen. Great acting all round.
Cliche Counter:
Made in the 1970s: 5
Italian: 2
Male Lead/Dominate Cast: 7
Main Character Dies: 5
Horror: 4
Top 10 Recs
1. Harold and Maude
2. Signs
3. Pan's Labyrinth
4. Enough Said
5. Silent Running 
6. Trainspotting
7. Psycho
8. You're Next
9. Good Night, and Good Luck
10. A Time to Kill
You're next…a bunch of English Major bitches, can't deal with life and decide to cry and moan and bitch until their entitled english major ass gets their way. 
All Pacino..in that last gif. *FAN GIRLIN'*
I don't think I'm very off in stating that most viewers find the categories outside best actor/actress, director, and film less entertaining. However, to a true lover of film, the category makes no difference. The reason I watch award shows is to see stars among friends, and acting natural. The best part of the awards night is when a winner is caught extremely off guard when they hear their name called-and underdog win is a truly precious thing.
"Shaft" is probably one of the biggest, and critically acclaimed blaxploitation film of the 1970s. I really loathe that term, "blaxploitation", like these films were something negative. One the contrary, many like Shaft, were made in a respectable manner, and brought a sense of pride to the black community. Directed by Gordon Parks, and staring Richard Roundtree, Shaft was not nominated for any other Academy awards. However, it's recipient of a nomination in any category can be seen as a staple of the times, and a major achievement for low-budget action flicks. 
The "Theme From Shaft", which was both composed and performed by Hayes was one of the more popular songs of 1971, reaching #1 on the billboard Hot 100 in November of that year. Therefore, it was not too much of a surprise to fans of the song and film that Hayes won—or was it? The early '70s wrought changes in the film industry, and African Americans were finally considered for more serious roles and positions nation wide. Outside of the acting categories, no African American had received an award until Hayes in 1972. Moreover, the song writer/performer was up against heavy weight and previous winner, Henry Mancini. 
Donning a flashy navy velvet suit, lined with baby blue fur and compact with an equally furry oversized bowtie (as was the fashion), and satin baby blue frilly shirt, Hayes can't help but hide the joy on his face as he trots to the stage to obtain his award. Nor can one miss his slip composure as he tries to find some way to justify his win. Furthermore, his speech is one of the more heartfelt I've ever seen, not only thanking those who helped him with this honor, but giving a nod to his grand-mother—who he brought as his "date", what a man! Presenter of the award, Broadway star Joel Grey who would go on to win his own academy award that following year for "Cabaret", also shows an overjoyed expression and lets out a giddy laugh in appreciation. Hayes' friends and others in the audience can be heard cheering him on as he makes his way to the award, one even shouting, "I told you!". 
Not only is Hayes' win one of the most precious and genuine, but truly was history in the making—and another example of how the 1970s was one of the most unique and groundbreaking era for cinema. 
One of the biggest surprises of last night's award show didn't come from an unexpected win or gaffed speech. For the first time in 40 years, veteran actor Robert Redford donned a tux and presented himself at a major award show. Redford, who was one of the highest paid stars of the 1970s having his big break with 1969's Butch Cassidy and the Sundance Kid, gave his last appearance at the Globes in 1974 when The Sting was nominated in a slew of categories. Although none of the commentators spoke of it publically, Redford reserves his decline from award shows due to their lack of Indie Film recognition. Ironically, Redford was nominated this year for Best Actor for his role in the limited release, All is Lost. Fittingly, Redford lost the award to another underdog of an Indie, Matthew McConaughey. 
Of course, Redford wasn't the only star of the 70s who shown bright during the Globes last night; although not nominated for Best Director, Martin Scorsese showed support for his newest epic, Wolf of Wall Street which was nominated for best Motion Picture: Musical or Comedy. Although one might disagree with the category, "Wallstreet"'s portrayal of American Greed was seen by star Leonardo DiCaprio as reminiscent of the dare-devil risque features of the 1970s. Despite losing out to American Hustle, DiCaprio received the win for the film as Best Actor: In a Motion Picture Musical or Comedy. 
Fellow '70s director Woody Allen similarly gained a win for his newest drama, Blue Jasmine from staring actress Cate Blancett in the best Actress: Drama Category. However, that was not his only recognition for the night, recieving the esteemed Cecil B. DeMille for a life time achievement in directing. Not attending for personal stigma of award shows, a witty montage and actress Emma Stone paid homage to his work. Moreover, actress Diane Keaton donned a suit and tie, and sang "Silver and Gold" as a nod to her collaboration (and friendship) with the director from 1977's Annie Hall. 
Speaking of 1977, Behind the Candelabra, a late 70s/early 80s period piece about Liberace's affair with a young animal trainer took home the award for Best TV Miniseries or Movie Drama. Star Michael Douglas, who began his career in the early 70s took home the award for best Actor in a TV Miniseries or Movie Drama as Liberace. Almost as big as a surprise as Redford's appearance was actress Jacqueline Bisset's black-horse win for best Supporting Actress in a TV series, Miniseries, or Movie, representing the BBC series Dancing on Edge. Bisset, whose career began in the mid '60s is best known for her cult and foreign performances in the 1970s. Slammed by tabloid sites for her wavering composure and jumbled speech, Jacqueline was so surprised she was at a loss for words. However, she dotingly paid thanks and looked for answers in friend Jon Voight, who also took home the same award in the male field. 
The big winner of the night, was the stylish and witty con film "American Hustle" which is loosely based on the ABSAM operation, taking place in 1978. In all, it took home the awards for best Motion Picture: Musical or Comedy, Best Actress (Amy Adams), and Supporting Actress (Jennifer Lawrence).  Nominated for Best Motion Picture: Drama was Ron Howard's auto racing film Rush, detailing the 1970s rivalry between Aussie rivals James Hunt and Nikki Houda; Houda making an appearance to introduce the film to the Globes—a far cry from Howard's coming of age roles during the decade of his films setting. 
As award season kicked off last night with the Golden Globe awards, I decided in good spirits that I would celebrate the festivities with a countdown until the much anticipated (and respected) Academy awards. What other way to do this, but with a daily clip of acceptances and bestowments to my favorite era in film-making. 
Beginning proper, we of course have my cinematic hero, very bashful and hipster-esque on stage. However, unlike in 2006, this win if not for his own achievement, but as a favor to the actress of his heroine of 1974's Alice Doesn't Live Here Anymore. As it so happened, "Alice…" was Scorsese's first Hollywood picture, having previously directed a low-budget independent "Mean Streets" in 1973, a similarly budgeted Corman period piece, "Boxcar Bertha" (1972), and an arthouse quasi student feature "Who's That Knocking at My Door?" (1967). Suffice to say, Scorsese was still rather green, but his ill-at-ease demeanor was something that followed him since childhood, well until the 1990s when Goodfellas debut. Admittedly, it's hard to think that so many youths believe Scorsese to be just another "old and famed" director, when his battle to recieve such status has followed him his entire life, being void of his own Oscar nod until 2007. 
"Alice…" as well as Burnstyn were both underdogs, as with the Oscar winner as an exception, the film was not nominated for any other awards. Therefore, the expressions of the actress' co-nominees as well as their dates are extremely genuine as well as understandable. Perhaps, with the exception of Faye Dunaway who looks unwaveringly pissed…I kind of just want to bitch slap her like Nicholson did in her represented film, "Chinatown". Furthermore, Dunaway wasn't even critic "favorite", which was bestowed to indie and low-budget film star, Gena Rowlands who made her mark (and perhaps her only major one) with her rollar-coaster ride of a performance in husband John Cassaveteses' "A Woman Under The Influence". While "A Woman…", like "Alice…" was also an underdog, it was also terribly low-budgeted. However it, as well as Rowlands, packed an emotional punch and surprise numerous critics, also being nominated for Best Director and a series of Golden Globes. While Rowlands looks a tad disapointed, she also seems to be in good spirits which of course pales in comparison to Valery Perrine's reaction. 
Like Rowlands (and Burnstyn), Perrine gave a heartfelt and realistic performance as an emotional disturbed heroine on a downward spiral into drug addiction, and self destruction opposite Dustin Hoffman in Bob Fosse's biopic, "Lenny". Prior to the film, Perrine was more unknown to the public eye than Rowlands (and Scorsese), having excelled her act in theater. Lenny itself, was low-budgeted and very art-housy in respect—having been forgotten for years. However, her wide-eyed expression and giddy-school girl wiggling in her seat is a perfect display of "good sportsman ship", and makes me feel bad at her loss. That being said, all nominees were well deserved for the award (except for maybe you, Dunway), and makes me wonder what nominees have come to. Although blockbuster "The Godfather: Part II" took home its fair share of awards, its hard to miss the array of low-budget pictures, and art house flicks and their B-list studded hopefuls whose concern was more making a lasting impression than being shot into stardom.
As for the apparel, its hard to tell what the gals had donned, but it is evident that updos and straight spring dresses were in style. The men of course looked stunning in their oversized bowties, and frilly shirts. 
While I too, enjoyed the jibes made by Tina Fey and Amy Poehler, there was one comment that annoyed me which concerned the basis that the majority of viewers of award shows are women and gay men. Of course, I understood that this came from tabloid magazine articles and celebrity shows of the like concerning such award shows which are headed by the aforementioned groups of people. However, as a lover of film I wanted to think that the ratings came from others like me who care more to see their favorite directors, actors, and other crew persons from bygone days, and not critique still pallor gowns.
Then I mistakenly searched last night's festivities, only to find what I feared—critiques on apparel and speeches. While I'm not a fashion conessuir, I was surprised by some of the "best dress" choices which seemed to favor the young and slim, and give pity to those who showed up with a "bump". More appalling were the criticisms of the speeches of the award winners—in particular Jacqueline Bisset. As if the 69-year-old Briton didn't suffer enough from nervousness and a mental stump brought on by a surprise win—let alone having to push her way through her celebrity comrades in a dress and heels to receive her award. 
Critiqued for dragging out the show, confusing viewers with her "babble", and representing a BBC series "no one ever heard of", Bisset was simply conveying that celebrities are foremost, human. Obviously, we all know that the illustrious occupation has its price—but I've never seen such an ignorant reason to pick on a celebrity. Personally, I found Bisset's slip-shod speech, honest and heartfelt, so overtly wanting to give praise to those who derived and survived a bygone era of filmmaking. As her speech and composition progressed (not regressed as many tabloid writers would have us think) the actress was cheered on by her comrades—more so exemplifying empathy (which star hasn't been there?). 
Even Diane Keaton, who excepted the Cecil B. Demille award, bestowed upon Director and friend Woody Allen received her own jibes. Attacked for her apparel, which so obviously was in homage to her relationship with the director, Keaton was simply honoring her collaborator for over 40 years in a way he respected. It seems to me, that a lot of this "black lash" comes from a misunderstanding of what the award show was founded upon—an appreciation for those who spent their lives excelling in one of America's most difficult fields. 
show 'em Jackie. 
Munch was literally one of my favorite characters of all time. 
Next